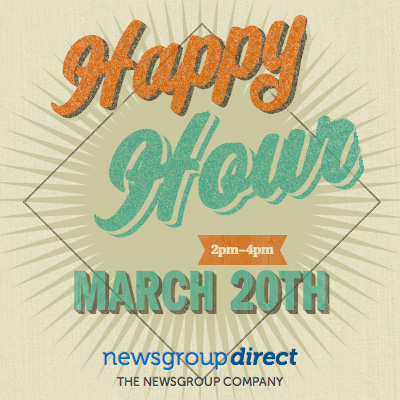 We changed the usenet industry with our Terabyte Tuesday promotion. Now we're doing it again. Today we're excited to announce the next big thing in usenet, the NewsgroupDirect Happy Hour. The first Happy Hour event will be tomorrow, March 20th, from 2PM until 4PM Eastern.
Each Happy Hour we will offer a steep discount on a single usenet plan. We won't announce what the sale will be ahead of time, so you will have to watch the Happy Hour page to find out.
How To Purchase
You should watch the Happy Hour page to see what the special offer will be. If you have any questions during the sale then feel free to contact our support team.
Want To Know About Future Promotions?
Want to be the first in line to find out about Terabyte Tuesday, Happy Hour, and our other fantastic promotions? Join our Terabyte Tuesday mailing list. We respect your privacy, so you'll only receive notifications about our promotions.
The Fine Print
The sale runs from 2 PM EDT on March 20 until 4 PM EDT on March 20. No sale prices will be honored after the sale expires. This sale price is only available to new customers.