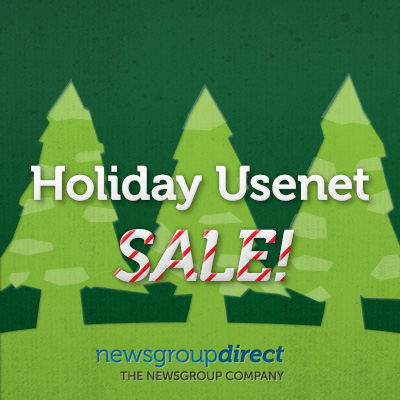 Happy Holidays from all of us here at NewsgroupDirect! You have made 2013 a great year for us, and we hope that it has been prosperous for you too.
We're having a Holiday sale to close out 2013. This year we're serving up our 1 TB usenet blocks for just $40 and our 2 TB blocks for $60. The sale runs until 12 AM EST on January 5, 2014.  All plans have access to our world-class retention (currently over 1,950 days), speed, completion, and our industry-leading customer service. Hint hint: keep watching our blog because we plan to offer a couple of additional deals before the Holiday Sale is over. 
NewsgroupDirect blocks never expire and can be shared with friends. Feel free to buy multiple blocks if you want to take advantage of the discount.
How To Purchase
Simply visit our Pricing page to see the sales. Current customers can login and click Add Block.
Special Discounts on VPN Access
Ghost Path still has a couple of deals going on for NewsgroupDirect customers. You can pay $3/month (for first 3 months, then $6) or $35/year. These rates will expire at the end of 2013 as well.
Be Notified About Future Promotions
Want to be the first in line to find out about Terabyte Tuesday and our other awesome promotions? Join our Terabyte Tuesday mailing list. We respect your privacy, so you'll only receive notifications about Terabyte Tuesday.
The Fine Print
The sale runs until 12 AM EST on January 5. No sale prices will be honored after the sale expires.