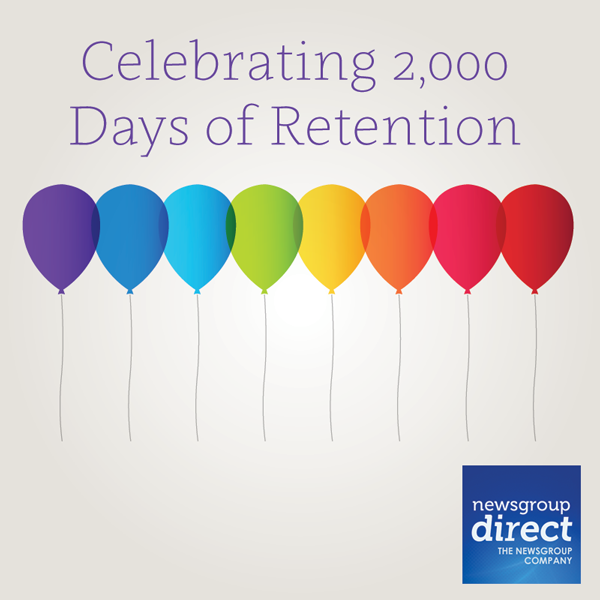 Today we officially hit the milestone of offering 2,000 days of binary usenet retention. 10 years ago, when NewsgroupDirect was just getting started, the industry standard for retention was 12-24 days. It's amazing how far things have progressed since then.
Retention increases are due primarily to the lower costs of hardware. In 2004 hard drive storage averaged about $1.50/GB. Now it's more like $0.04/GB (around 97% cheaper!). NNTP systems are much more complicated than just buying up a bunch of disks, but the cost trend is what's important.
To celebrate this milestone we've have a short sale on our biggest usenet block, the 2 TB behemoth. From now until 12 AM EST on February 9 11, 2013 you can get our 2 TB blocks for just $60.
NewsgroupDirect blocks never expire, so you can buy as many blocks as you want and never worry about losing them. All of our blocks are shareable, so you can get together with friends and share. Plus, all NGD customers get access to discounts on VPN access over at Ghost Path.
UPDATE – February 8, 2013 – Due to popular demand we've decided to extend the sale for 2 more days. The sale now ends at 12 AM EST on February 11.
How To Purchase
500 GB Block – New customers can go to our Deal of the Week page to purchase. Existing block customers can login to our website and click Add Block.
Want To Know About Future Promotions?
Want to be the first in line to find out about Terabyte Tuesday and our other awesome promotions? Join our Terabyte Tuesday mailing list.
The Fine Print
The sale runs until 12 AM EST on February 9. No sale prices will be honored after the sale expires.
2 TB block: sale price is available to both new and existing customers. You are free to purchase as many blocks as you'd like and share them. Coupons (new or existing) do not apply to these special rates. All blocks receive a 10% allowance for headers, so a 2 TB purchase will actually give you 2.2 TB.